How To Train A Happy, Confident, & Well Behaved Puppy
Whether you just got your next agility competitor or a household pet for your family, you'll want to teach your puppy to be happy, confident and well behaved.

For better or for worse, we only have our puppies for a short period of time before they become adult dogs. This leaves us a small window to both enjoy our canine's puppyhood and build a strong foundation so that we have a happy, healthy, confident and well behaved adult dog for the entirety of their lives. 
In this course, you will not only learn how to teach your puppy the behaviors that you want them to know, but also how to teach them to be confident living in the world we brought them into. Socialization, desensitization and creating positive associations with the world around them will help them become a confident happy puppy so they can be a confident happy dog.
Potty training, crate training, and many other common puppy raising topics are covered in detail with a variety of examples and demonstrations. After going through this course with your puppy you'll be ready to handle any situation that might arise after bringing your puppy home.
This course is suitable for puppies ages 7 weeks to 7 months and features over 25 video lessons plus provides students with direct access to the course instructor through Q & A discussion forums dedicated to each lesson. You'll have access to all the material immediately and the convenience of learning at your own pace over a 6 month period while still having access to your instructor the entire time.
---
Learn Puppy Behavior Training

NILF:
 Nothing In Life (is) Free. Teaching your puppy that if they want something, they have to do something you want in order for them to get it is the absolute easiest way to teach you're puppy how to be a well behaved dog.

Name Recognition:


 Your puppy won't know their name unless you teach them. When your puppy learns that their name is something great, they'll gladly you give you their attention when they hear you call their name.

Eye Contact:
  Eye contact is one of the best behaviors you can teach your new puppy. Whenever your puppy is looking at you they're more likely to do what you tell them More importantly, teaching your dog to give you eye contact will help them be confident with other people.

Leash Walking: A puppy that fights, twists, turns, rolls and otherwise hates to be on leash will grow up to be a big strong dog that does the same thing! Teach your puppy how to properly walk on leash.

Leave It:
  Grabbing food or something worse from just about anywhere they can get it seems like what every puppy wants to do. Don't just teach your puppy to leave it if you say, teach them to ignore it unless you say.

---
Learn Basic Obedience  Training

"Sit": This basic obedience command is the foundation of good behavior. Teaching your puppy to sit whenever you are around is key to a well behaved dog.

"Stay":
 The "Stay" command is going to be one of the hardest commands for your puppy to do. Sitting still is just something puppies aren't good at! Regardless, with patience your puppy will be staying put in no time!

"Come":
 The "Come" command is the most important command to keep your dog safe. With a confident recall, you know that your puppy will come back to you if they were to ever get outside off leash.

"Drop"  Teaching your puppy to drop whatever they have in their mouth is just as important as a recall. What your puppy tries to eat could cause irrepairable harm. A bullet proof drop will go a long way to keep your puppy safe.

"Off"  Your puppy is bound to be on everything in your house that they can crawl up on. Teaching them the "off" command helps keep order in your household and keep your puppy from damaging anything important.

"Down"  Teaching your puppy the down command will help them learn to settle if necessary as well as give them another mentally challenging behavior to learn.

---
Desensitization & Confidence Building:   
Sights & Sounds: Cars, thunderstorm, construction sites and playgrounds can all be overstimulating and/or scary to your puppy. Desensitizing them now will help them be an ideal adult dog.

Body Handling: Handling your dog's ears, tail, paws, legs, and body will help them with grooming, veterinary visits and many other common situations.

Unstable Surfaces: Unstable surfaces are a great way to build your puppy's confidence and help them grow up confident and strong.

---
Socialization & Interaction:   
Dog-Dog: Your puppy should get used to all types of dogs, but that doesn't mean they should always think of dogs as playmates. Teaching your puppy how to socialize with other dogs is more than just playing.

Dog-People: People come in all shapes,09 sizes and colors. The more people you can socialize your puppy with, the more confident they can be in any environment.

Dog-Child: Children can be unpredictable, uncontrollable and very scary to a young puppy. Socialization with children is important to your puppy whether you have kids or not.

---
Kennel (Crate) & Potty Training:   

Crate Training: Just like you wouldn't leave a infant to sleep anywhere around your house outside of the crib, you should not let your puppy either. And although some puppies may not start off loving their crates doesn't mean you can't teach them how!

Potty Training: Using a crate makes potty training easier, but it's still going to take work. Creating a schedule, using cues or commands and finding a designated area will help you teach your puppy where and when to pee so that both your lives are easier.
The Martial ARFS Online Puppy Course
Teaching Name Recognition.
Teaching your puppy their name means something great and they will be more than happy to give you their attention whenever you say it. However only saying your puppy's name when they're in trouble will teach them their name is a bad thing.
Add First Aid & CPR And Save!!
$99.00

$99.00

Puppy Kindergarten Course w/Canine First Aid & CPR (Bundle & Save $59)

Buy Now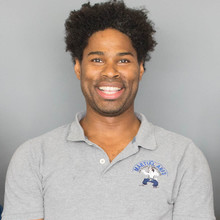 The Martial ARFS Owner
Jeris Pugh
Jeris Pugh has been studying canine behavior through practice, publications and live seminars for the past 15 years. He's attended lectures from veterinary behavior experts like Dr. Ian Dunbar, founder of Associations of Pet Dog Trainers (APDT) and Dr. Lynn Seibert, President of The American Veterinary Society of Animal Behavior (AVSAB).  After years of training dogs privately for obedience and competing in disc dog competitions throughout the Northeast, he realized there was something lacking in the dog training world. He set out to create a program that would not only improve dog's behavior, but give them an outlet for their excess energy, and improve their ability to perform their sport or maintain an active life. His experiences beyond the canine world that were instrumental in achieving that goal.He utilized his experience in teaching and training in the martial arts to combine the concepts of positive reinforcement dog training and the physical outlet that comes along with a martial arts class in order to create the original concept for The Martial ARFS. Under the guidance of his partner, Eve Pugh DVM CVA, CCRP, he used the principles he learned performing and providing functional training for human athletes and substituted canine rehabilitative exercises, canine balance, coordination and body awareness drills, and canine sports activities in order to create functional fitness training programs. However, a one of kind dog training program is only as beneficial as someone's ability to reach people with it. So in 2013, he open the first Martial ARFS facility on Long Island NY (Just 20 minutes outside NYC). Because of this dense population of the NYC metro area The Martial ARFS has become a high volume training center with as many as 60 new dogs per month. As a result, over the past 9 years The Martial ARFS has become the center piece for improving health, behavior or just a fun place for dog owners and their dogs.   The success Martial ARFS  has enabled Jeris to worked with a number of veterinarians across Long Island and NYC to provide programs for their specific clients. Countless General Practitioners, as well as specialist in Surgery, Neurology  and even Oncology have sent their clients to The Martial ARFS for general fitness, conditioning, or weight loss. To continue the process of bringing The Martial ARFS to more and more dog owners, Jeris is now expanding The Martial ARFS brand with additional facilities and online training so that people throughout the US and the world will be able to benefit from The Martial ARFSHe, along with The Martial ARFS has been featured in numerous articles from, PetMD, Dogster, The I Love Dogs Site, Dog ID's.com, and Natural Awakenings with articles on canine fitness, behavior, and the concept of The Martial ARFS itself.
Reserve Your Spot Today!
Click below to sign up!