Functional Canine Conditioning Exercises With Just The K9FITBone
Our One Piece Conditioning series emphasizes exercises over equipment. In our One Piece Conditioning Peanut course we showcased how you can use variable pressure on the peanut to create dynamic challenges that tie your dog's ability to stabilize the peanut to the actions of the movement.
One Piece Conditioning: The K9 FITbone will teach you how to condition your dog with a variety of different functional exercises that you can perform on the K9 FITBone. Strength exercises done in isolation and in combination with other exercises help recreate the aspects of sport necessary for canine conditioning to work. So even if you only have a K9 FITBone, it's your creativity and understanding of how to do any given canine conditioning exercise that will enable you to achieve superior conditioning results.  
This comprehensive one of kind course features over 25 videos and provides students direct access to the course instructor through Q & A discussion forums dedicated to each lesson.  All the material will be available immediately upon enrollment and you'll have the convenience of learning at you're own pace over a 6 month period, while still having access to your instructor the entire time.
---
Learn Functional Canine Conditioning Exercises With Just One Piece Of Conditioning Equipment: 
Strength Exercises:
   In this course strength exercises can be done with your entire dog on the stability piece, or by isolating the hindlimbs or forelimbs. These 3 different positions give us the opportunity for a variety of exercises to focus on strengthening our dog's primary movers, stabilizers or both in any given exercise. As well, by isolating the hindlimbs for stabilization and the forelimbs for strengthening or vice versa, we can recreate the dynamics of the independent hindlimb and forelimb control necessary for sport or an active life.
Combination Exercises:
    Very seldom in sport, or even an active life, does your dog make repeated movements with hind and forelimbs as they do with a slow and controlled well executed canine conditioning exercises. In this course you will learn how to incorporate properly executed single movement exercises into combination exercises that incorporate a variety of body positions, angles and planes of movement. Combination exercises can recreate the dynamics of sport so your dog is better prepared to handle, or improve upon the activities of their sport.  

Awareness, Extension & Stabilization:
   Improving hindlimb awareness for better performance and injury prevention goes far beyond your dog being able to place their back feet on a piece of conditioning equipment. Extension, Strength and Stability are just as important as your dog having a "feel" for their hindlimbs in space, in order to have truly effective conditioning results. In this course you will learn a number of exercises for the hind and the forelimbs that will improve awareness, extension, strength and stability so your dog can perform like never before.

One Piece Conditioning
Hindlimb & Forelimb Push Up
In this excerpt, Jeris and Rue demonstrate a balance and coordination exercise with a complete 360 degree turn while on the K9FITBone. With it's narrow center Rue really has to focus on putting her feet in the right spots in order to complete the turn. This isn't an exercise you can force your dog to do correctly so building value for keeping all for limbs on the bone is essential. 
Just The K9 FITBone Is All You Need!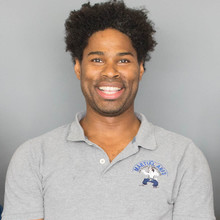 The Martial ARFS Owner
Jeris Pugh
Jeris Pugh has been studying canine behavior through practice, publications and live seminars for the past 15 years. He's attended lectures from veterinary behavior experts like Dr. Ian Dunbar, founder of Associations of Pet Dog Trainers (APDT) and Dr. Lynn Seibert, President of The American Veterinary Society of Animal Behavior (AVSAB).  After years of training dogs privately for obedience and competing in disc dog competitions throughout the Northeast, he realized there was something lacking in the dog training world. He set out to create a program that would not only improve dog's behavior, but give them an outlet for their excess energy, and improve their ability to perform their sport or maintain an active life. His experiences beyond the canine world that were instrumental in achieving that goal.He utilized his experience in teaching and training in the martial arts to combine the concepts of positive reinforcement dog training and the physical outlet that comes along with a martial arts class in order to create the original concept for The Martial ARFS. Under the guidance of his partner, Eve Pugh DVM CVA, CCRP, he used the principles he learned performing and providing functional training for human athletes and substituted canine rehabilitative exercises, canine balance, coordination and body awareness drills, and canine sports activities in order to create functional fitness training programs. However, a one of kind dog training program is only as beneficial as someone's ability to reach people with it. So in 2013, he open the first Martial ARFS facility on Long Island NY (Just 20 minutes outside NYC). Because of this dense population of the NYC metro area The Martial ARFS has become a high volume training center with as many as 60 new dogs per month. As a result, over the past 9 years The Martial ARFS has become the center piece for improving health, behavior or just a fun place for dog owners and their dogs.   The success Martial ARFS  has enabled Jeris to worked with a number of veterinarians across Long Island and NYC to provide programs for their specific clients. Countless General Practitioners, as well as specialist in Surgery, Neurology  and even Oncology have sent their clients to The Martial ARFS for general fitness, conditioning, or weight loss. To continue the process of bringing The Martial ARFS to more and more dog owners, Jeris is now expanding The Martial ARFS brand with additional facilities and online training so that people throughout the US and the world will be able to benefit from The Martial ARFSHe, along with The Martial ARFS has been featured in numerous articles from, PetMD, Dogster, The I Love Dogs Site, Dog ID's.com, and Natural Awakenings with articles on canine fitness, behavior, and the concept of The Martial ARFS itself.