Treadmill Conditioning, Coordination & Behavior (Level 1)
No other dog training facility offers anything like our K9 TreadSpin™ class. Now we're bringing this amazing class to our online clients as well.  We've separated it into 3 levels so whether you're looking to condition your canine athlete or exercising your canine companion, these courses will improve every aspect of your dog's physical health and ability.  
The focus of our level 1 course is building a strong foundation for working on the treadmill. Regardless of the type of treadmill, by incorporating walking, trotting, or following behavioral cues or other exercises at a variety of different speeds your dog will learn how to work effectively and safely on a treadmill through challenging physical activities that are also so much fun to do! 
When you're finished with our Level 1 course, they will be prepared to handle more advanced exercises and physical challenges that will vastly improve all aspects of their performance, health and behavior. But before you move on to K9 Treadmill Conditioning, Coordination & Behavior (Level 2)  everything is put together as a workout for you and your dog to follow along in pre-recorded unique real-time classes. There are no other courses like this anywhere.    
Don't have a dog treadmill? Any treadmill will do. Though dog treadmills can have a variety of advantages that we'll go over in this course, it doesn't mean you can't use the old dusty treadmill you brought for yourself when you thought you were going to get into shape for that one New Year's resolution. 
This is the premier course for physical activity for your performance, active companion, or even obedience dog.
This course is suitable for dogs ages 12-18 months and older. It features 12 video lessons plus our one of kind real time 40 minute on demand Level 1 TreadSpin class for you to take with your dog whenever you'd like. It also provides students with direct access to the course instructor through Q & A discussion forums dedicated to each lesson. You'll have access to all the material immediately and the convenience of learning at your own pace over a 6 month period while still having access to your instructor the entire time.
**You do not need a dog specific treadmill for this course.**

Treadmill Behavior Freestyle!
Following your cues during sport or life is essential to success or good behavior. Once your dog has learned how to follow cues while working on the treadmill at various speed, it's time for them to follow random cues as they would in their performance or life situations, while still having the task of moving on the treadmill. 
Learn Treadmill Basics
No matter how seasoned your treadmill dog, it's always good to start with the basics.

Safety:
 There's nothing more important than the safety of your dog whenever you're working with your dog, especially when you using a mechanical device like the treadmill.
 
Getting On The Treadmill:
   From stepping on the treadmill to jumping on from the side over a bar. Whether you're a beginner or advanced the first step of getting on the treadmill can be a challenging activity and even dangerous activity if not done properly.
 
Proper Speed:
  Every dog has a natural walking speed that depends on size, breed or structure. Matching the treadmill to your dog's walking speed makes it easier for your dog to get comfortable and perform more complex moves and exercises.
 
Trotting: Trotting is not just great exercise for your dog, it's also a great way to achieve balanced muscle engagement across all four limbs. Though most people only go as far as trotting their dog while on the treadmill, for this class trotting is just the beginning.

Treadmill Foundation Obedience & Coordination Moves

You can't do anything with your dog if they don't follow your cues. Obedience is the foundation for all training with your dog and especially the treadmill. Obedience cues prepare your dog for more advanced exercises and sequences throughout the course, but also help generalize your dog's behavior in all situations  
 
"Sit/Come": The basic obedience cue "Sit" is the foundation for good behavior but also exercises like the squats, adding the "come" cue insures an obedient dog won't just fall off the back of the treadmill.
 
"Down/Come":
 The "Down" cue adds an additional element of obedience and exercise to your dog's treadmill workout.
 
"Circle/Turn":
 The "Circle" and "Turn" cues begin the coordination aspect of your dog's treadmill training. With limited space and a moving surface turning 360 degrees in either direction while on 4 legs is tough!
 
"Freestyle"  Our first foray into our combinations or  "Freestyle" combines all of the obedience cues into a  physical and mental challenge that is often one of the most exhausting rounds in our TreadSpin™ class at The Martial ARFS®

K9 TreadSpin™ Level 1 Classes:   

This course comes with one our signature K9 TreadSpin classes filmed and edited for so that you can participate in real time and on demand whenever you'd like to work your dog. It's great for active companions or sporting dogs looking to improve athletic performance while helping to prevent the injuries associated with sport and life.
Obedience & Exercise:   Have an agility or other type of sporting dog? Though the foundation of this class is behavior, this is a great cross training activity for sport dogs. In addition to improved endurance, it will improve your dog's response time to your cues when competing in their sport.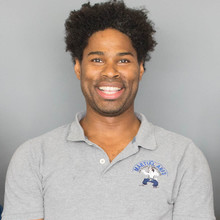 The Martial ARFS Owner
Jeris Pugh
Jeris Pugh has been studying canine behavior through practice, publications and live seminars for the past 15 years. He's attended lectures from veterinary behavior experts like Dr. Ian Dunbar, founder of Associations of Pet Dog Trainers (APDT) and Dr. Lynn Seibert, President of The American Veterinary Society of Animal Behavior (AVSAB).  After years of training dogs privately for obedience and competing in disc dog competitions throughout the Northeast, he realized there was something lacking in the dog training world. He set out to create a program that would not only improve dog's behavior, but give them an outlet for their excess energy, and improve their ability to perform their sport or maintain an active life. His experiences beyond the canine world that were instrumental in achieving that goal.He utilized his experience in teaching and training in the martial arts to combine the concepts of positive reinforcement dog training and the physical outlet that comes along with a martial arts class in order to create the original concept for The Martial ARFS. Under the guidance of his partner, Eve Pugh DVM CVA, CCRP, he used the principles he learned performing and providing functional training for human athletes and substituted canine rehabilitative exercises, canine balance, coordination and body awareness drills, and canine sports activities in order to create functional fitness training programs. However, a one of kind dog training program is only as beneficial as someone's ability to reach people with it. So in 2013, he open the first Martial ARFS facility on Long Island NY (Just 20 minutes outside NYC). Because of this dense population of the NYC metro area The Martial ARFS has become a high volume training center with as many as 60 new dogs per month. As a result, over the past 9 years The Martial ARFS has become the center piece for improving health, behavior or just a fun place for dog owners and their dogs.   The success Martial ARFS  has enabled Jeris to worked with a number of veterinarians across Long Island and NYC to provide programs for their specific clients. Countless General Practitioners, as well as specialist in Surgery, Neurology  and even Oncology have sent their clients to The Martial ARFS for general fitness, conditioning, or weight loss. To continue the process of bringing The Martial ARFS to more and more dog owners, Jeris is now expanding The Martial ARFS brand with additional facilities and online training so that people throughout the US and the world will be able to benefit from The Martial ARFSHe, along with The Martial ARFS has been featured in numerous articles from, PetMD, Dogster, The I Love Dogs Site, Dog ID's.com, and Natural Awakenings with articles on canine fitness, behavior, and the concept of The Martial ARFS itself.
Reserve Your Spot Today & Save!
Click below to sign up!
Buy All 3 Levels and Save!
$99.98

$99.98

K9 TreadSpin Bundle Level 1, 2 & 3

Buy Now